CZ100 series explosion proof camera for hazardous environments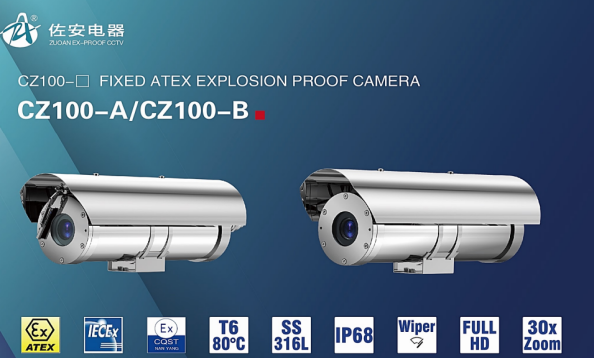 Gases or flammable dust can create a potentially explosive environment in the oil & gas industries or marine and industry area. The Zuoan CZ100 series ATEX explosion proof fixed camera is the perfect choice for the CCTV surveillance in such hazardous environment.
The CZ100 series ex-proof cameras pass through the strictest international standards ATEX, IECEX for Zones 1 and 2 (Gas), Group IIC T5 and T6 and for Zones 21 and 22 (Dust).
It includes HD, analogue camera models in order to meet different customer demand.supply best choice for customer between quality and price. The visible cameras are equipped with fixed lens,motorised zoom or 20X/30X zoom lens.
The housing is completely made of stainless steel 316L with polishing processes which have anti corrosion function to meet marine salty application.
The working temperature range of -40 °C to +65°C , along with a cold start system(Heating resistance), allow to work in harsh environments.
The IP68 ratings guarantee the complete protection against harsh weather and the submersion in up to 2 metres of water for 2 hours.
The visible cameras optional function: wiper, explosion-proof washer with ATEX solenoid valve to clean the front glass in flammable dust area.